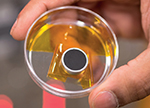 First Fermilab today, then DOE Pulse, and now Cern Courier.
RadiaBeam Technologies, in collaboration with Fermilab and Northern Illinois University, have been developing field emission cathodes based on resilient carbon nanotubes. Able to withstand high fields and produce low emittance, without an expensive drive laser, field emission cathodes are a step towards compact and cost-effective light sources.
Visit Cern Courier for a brief introduction or contact us for more information.